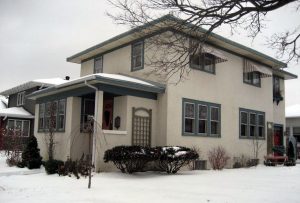 Did you ever drive down the highway past a rocky outcrop and noticed all the pieces of fallen rock at the side of the road? Did you ever wonder how the pieces of solid rock became shards and rubble on the side of the road?
That is the power of winter weather. It can take the largest of solid boulders and reduce it to rubble over the years.  A small crack or crevice lets in a tiny amount of rain, the temperature drops, the rain water freezes, expanding as it does so, and POP… off breaks a chunk of rock, caused purely by the pressure of the expanding ice.
The same effect happens on stucco homes.  Winter and cracked/damaged stucco is not a good combination.  Rain, snow and ice falling on damaged stucco can exacerbate stucco damage rapidly. Cracks become larger, the stucco bulges before eventually breaking away and falling to the ground, leaving large vulnerable areas of your home exposed to the elements.
What starts off like this…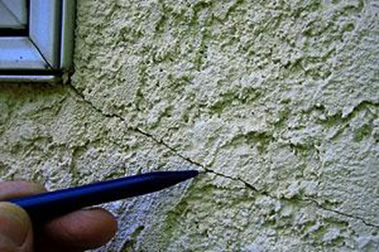 Can quickly turn to this…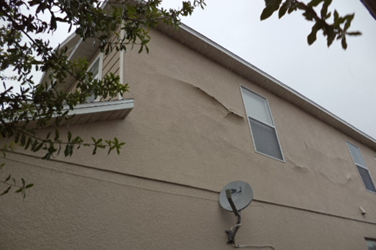 Don't get caught out this winter, call STS and get your stucco inspected before it's too late.  We can determine the health of your stucco and recommend preventative measures to take to avoid rapid deterioration and expensive stucco repair bills.
Certified Stucco Testing Specialists Are Ready
If you have questions or concerns with the stucco outside your home, call us today. Our certified and qualified inspectors will examine the exterior of your home and provide you with available options and resolutions. Call us at (610) 994-0287 or email us at info@stuccotestingspecialists.com. We look forward to servicing you!