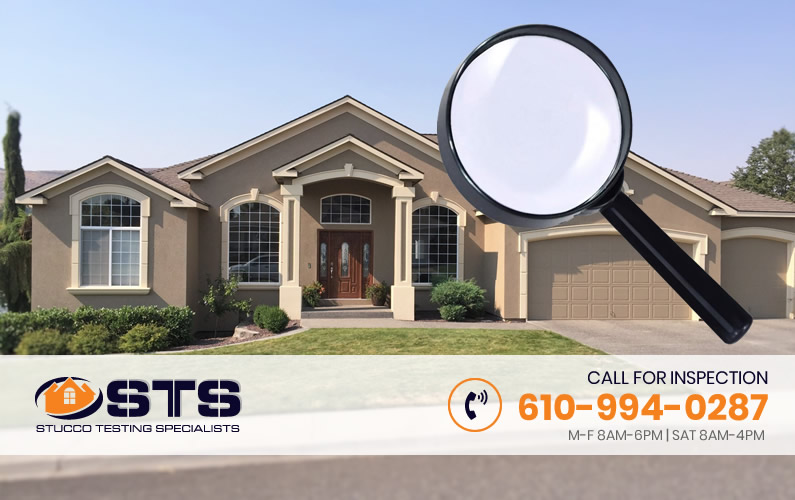 Stucco Health
A stucco test, simply put, is an examination of the overall health of a stucco facade followed by a semi detailed mapping of the moisture in the framing of the building behind stucco. In a healthy stucco application, the stucco will be uniform and free from cracks or bulging, all required installation details will be present and the moisture content of the framing behind will be within normal limits (meaning that no moisture is penetrating through into the building envelope).
Photographs
During a stucco test, photographs will be taken to document any problem areas, such as bulging stucco or cracking stucco. In addition to visible issues, photographs should also be taken of any missing installation details such as expansion joints. Furthermore, a moisture meter is used to measure the moisture content of the wooden members behind the stucco application.
Thermal Imaging
Thermal imaging is of little use when inspecting stucco. A thermal image only maps the surface temperature of whatever it is pointed at, and as stucco should be almost an inch thick, it is impossible for a thermal camera to detect any moisture behind the stucco. Whilst the pretty color photos look impressive in a report, they are of little use, if any at all. I would not recommend an inspector that uses thermal imaging for stucco inspection purposes.
Report
All findings are then presented to the customer in a detailed stucco moisture report, with any problem areas identified by clear photographs and explained in easy to understand language. The homeowner should discuss the report with their inspector and ask as many questions as they need to fully understand the results and what actions they may need to take, depending on the outcome of the inspection.
If your home has a Stucco facade and has not had a stucco inspection carried out in the last 2 years, you should consider getting a stucco inspection. If you are buying or selling a stucco home, a stucco test is highly recommended to uncover any hidden problems and avoid costly lawsuits.