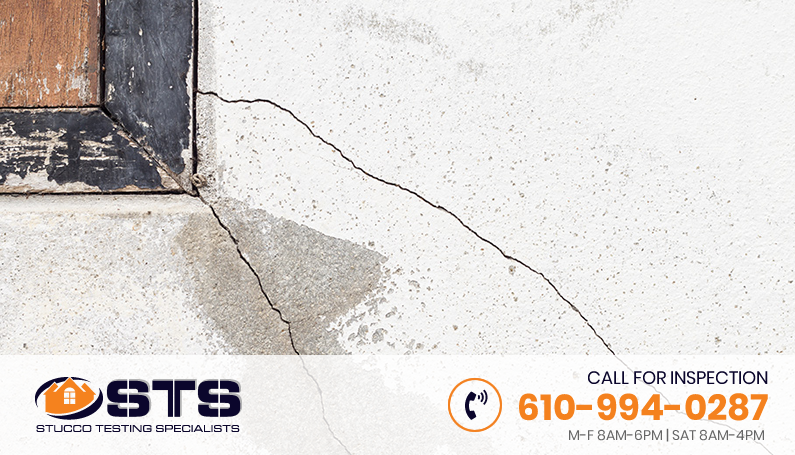 Is Stucco Inspection Necessary?
The answer to this question is not as simple as you may think. It is determinate on a number of factors regarding your home, its construction and its history.
A stucco inspection is necessary when you are buying or selling a stucco home, IF the stucco is installed on a "stick-built" home (this means a home constructed of wood framing). Or if you own a stick-built home that has a stucco cladding system applied and you have not had it inspected before.  All stucco inspections should be carried out by a professional and certified stucco inspector, not a standard real estate home inspector.
A stucco inspection is not necessary if you have a brick or cement block home with stucco applied to the exterior.  Stucco over brick or block is considered an aesthetic veneer. These stucco on brick homes are not too common in the Philadelphia region or throughout the North East. Therefore, the likelihood of such an application is slim in the northeastern portion of the United States. So chances are a stucco inspection will be necessary on your home if you live in the Philadelphia region or surrounding areas.
Although not considered necessary, it is still a GOOD IDEA to get a stucco inspection when purchasing a home with stucco over brick as there can be situations that lead to expensive repairs. Granted not as prevalent as stick-built homes, but unless you are familiar with construction standards and practices, I would call in a professional stucco inspector to make an accurate assessment.
Why is a stucco inspection necessary?
Stucco inspections are necessary due to the fact that stucco is porous, and therefore allows moisture to migrate through it.  In the past 30 years or so, lots of stucco applications were installed incorrectly due to lack of experience and training from the installers part. In some instances,  incorrect building codes at the time.
Details that are required in a correct stucco system include proper flashing, a drainage plane to allow moisture to evacuate from the stucco system and proper expansion and contraction joints, just to name a few.  Many installations are missing some or all of these required details.
These missing parts of the system lead to moisture become trapped behind the stucco and then migrating into the sheathing and wood framing of the home. As you can imagine, this is not a good scenario and can lead to tens of thousands of dollars of damage to the home. 
If you are buying a stucco home, it is necessary to get a stucco inspection before you make your purchase to protect yourself from expensive stucco remediation down the line. Forewarned is forearmed as they say, and nothing could be more accurate in today's era of unprecedented stucco failure.
I hope this article was of some help to you, but if you still have questions or concerns give us a call here at Stucco Testing Specialists and we will be happy to give you the benefit of our experience. Advice is always free at STS! For more information on our stucco inspection services, you may visit our stucco inspection services page here. We also have more stucco guides for you to peruse and frequently asked questions. If you are ready to book an inspection, you may call us at (610) 994-0287, email us at info@stuccotestingspecialists.com or submit a booking request on our contact form. We look forward to hearing from you!

More Info
Call us today to book your Punctual and Professional EDI Certified Stucco Test Specialist.
Address:
1150 First Avenue, Suite 525
King of Prussia, PA 19406
Phone: (610) 994-0287
Email: info@stuccotestingspecialists.com
Business Hours:
Mon - Fri: 8:00 AM - 9:00 PM
Sat - Sun: 8:00 AM - 6:00 PM
If your home has a Stucco facade and has not had a stucco inspection carried out in the last 2 years, you should consider getting a stucco inspection. If you are buying or selling a stucco home, a stucco test is highly recommended to uncover any hidden problems and avoid costly lawsuits.