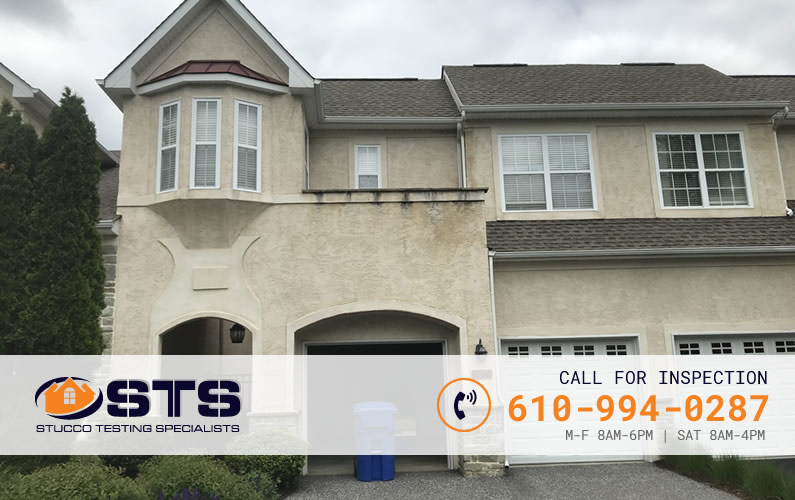 Visual Inspection & Photographs
A stucco inspection is comprised of a visual inspection and photographs, followed by a moisture probe inspection of the framing and wood sheathing located behind the stucco.
The visual inspection looks at the general overall appearance of the stucco application. The stucco inspector will look for things such as areas of bulging, staining and cracking. In addition to these visual defects, he will also look for the missing installation details such as proper expansion joints, kick-out diverters and weep screeds (a kick-out diverter diverts rain water away from a stucco wall, a weep screed is a detail that allows stucco to drain and provide ventilation for proper drying). A good stucco inspector will document all findings with photographs of the areas in question.
Moisture Probe
The moisture probe inspection is carried out with a 2 prong moisture probe. Two small holes are drilled through the stucco hardcoat and into the wooden structure behind the stucco. These holes allow the inspector to insert the prongs of the moisture meter into the wood in order to measure the moisture content. The moisture meter passes a small electrical current between the two probes, this current travels through the wood, and the level of resistance indicates the moisture content of the wood.The wooden structure should have a low moisture content at all times, any elevated moisture readings are a sign of moisture intrusion into the framing and/or sheathing of the building. This process is repeated in different areas all around the stucco application were typical failures are common. Once complete, the remaining holes are filled with a waterproof sealant color matched to stucco color. Once filled, the holes should blend in and be extremely difficult to locate.
If your home has a Stucco facade and has not had a stucco inspection carried out in the last 2 years, you should consider getting a stucco inspection. If you are buying or selling a stucco home, a stucco test is highly recommended to uncover any hidden problems and avoid costly lawsuits.