Can you use a thermal imaging camera for a stucco inspection?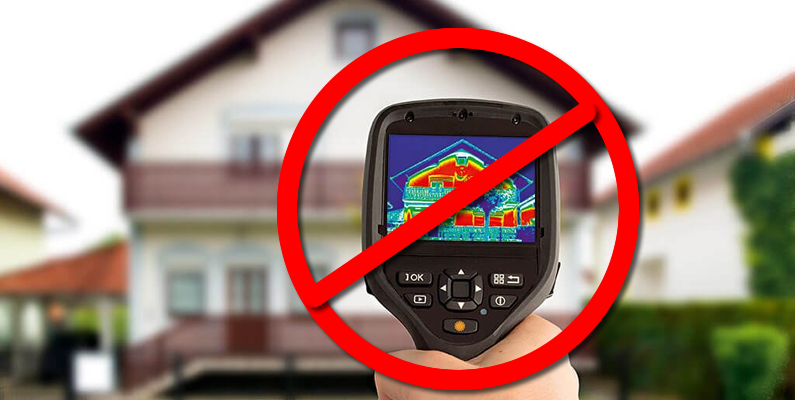 Thermal Cam? Or Thermal Scam?
You COULD use a thermal imaging camera to carry out a stucco inspection, but it would work about as well as a screen door on a submarine or a glass hammer. Am I getting the point across? It simply doesn't work.
Thermal cameras are great at identifying small temperature differences on a surface, however, THEY CAN NOT SEE THROUGH WALLS, this is a myth created by Hollywood special effects, and it should be dismissed as pure bunkum. Stucco is a cement product and should be almost 1" thick, other than maybe X-rays, I'm not sure of any way of seeing through 1" thick concrete.
If your stucco inspector says "thermal imaging cam" you should hear "thermal imaging SCAM".
Research
Much research has been done on the topic of flawed thermal imaging. Paul Probett, INCODO Forensic Building Specialist, has researched this topic thoroughly and his findings found everything from faulty, ridiculous claims in equipment to how results can easily be fudged to work in the inspectors' favor. To learn more about his findings please consult the link below.
https://inspectapedia.com/home_inspection/Thermography_Info.php
Moisture Probe
A stucco inspection should be carried out with a moisture probe measuring the moisture content of the wood behind the stucco, or in extreme cases, destructive testing by removal of the stucco itself. NOT by a thermal camera. There are many instances of unscrupulous individuals utilizing the public's lack of knowledge about thermal imaging cameras in order to take advantage and make money. Some wild and ridiculous claims have been made, and many people have fallen for them and handed over hard-earned money. Don't be one of these people.
If you hire a stucco inspector, ask him if he intends to use a thermal camera to carry out your stucco inspection, if the answer is "yes", I have one word of advice, RUN!
I have been asked about the use of thermal cameras in stucco inspections more times than I can count, so I apologize if my direct response offends you. But it is time the world understands the limitations of a thermal camera in this arena and the potential for incorrect and costly conclusions that are often drawn from fake findings.

More Info
Call us today to book your Punctual and Professional EDI Certified Stucco Test Specialist.
Address:
1150 First Avenue, Suite 525
King of Prussia, PA 19406
Phone: (610) 994-0287
Email: info@stuccotestingspecialists.com
Business Hours:
Mon - Fri: 8:00 AM - 9:00 PM
Sat - Sun: 8:00 AM - 6:00 PM
If your home has a Stucco facade and has not had a stucco inspection carried out in the last 2 years, you should consider getting a stucco inspection. If you are buying or selling a stucco home, a stucco test is highly recommended to uncover any hidden problems and avoid costly lawsuits.