Whether you are buying or selling a home or just trying to conduct regular maintenance, its noteworthy to understand the difference between a standard home inspection and a stucco inspection. A stucco inspection is considered a specialty inspection service.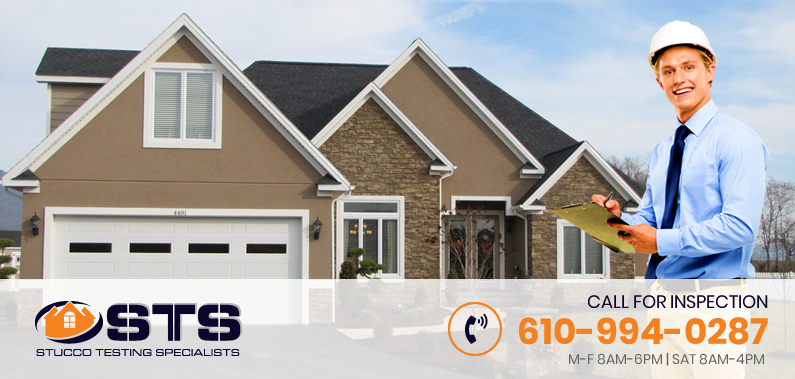 STUCCO Differences
First, why is stucco different? Exterior insulation and finish system (EIFS) is more commonly referred to as "stucco" or "synthetic stucco". A home with EIFS has multiple layers of material that gives you a unique look and added energy efficiency. Because this finish does so many things for your home such as weatherproofing, insulation, and so on, you want to make sure it's in good condition.
STUCCO Applications
There is a world of difference between "real" stucco on older homes built prior to around 1976 or so when synthetic exterior surface treatments came along that mimic the look of stucco. Real stucco is easy to identify from the synthetic stucco as real stucco is rock hard like mortar and/or cement because that is mostly what it is. Most qualified stucco inspectors will have some tools to help understand how sound any exterior is, however, using moisture meters, infrared cameras and non-invasive acoustic tools can conclusively show where water has penetrated. No matter if the house has real stucco or the synthetic exterior insulated finish system, there should be no reluctance to hire a specialized inspector, especially if there is evidence of failure.
STUCCO QUALITY
There are literally stucco homes from 2000 years or more in good water condition in the ancient Mediterranean. It is a great building product IF it is applied properly and the expected damage and wear that develops over time is properly addressed in a timely fashion. Most repairs are inexpensive and not time consuming. Occasionally a severe problem will need to be corrected but the costs are more like a new roof than rebuilding your whole house.
It is not uncommon for contractors of appropriate skill to be able to honestly assess a simple crack from a more serious issue but unscrupulous contractors will want to know if you intend to submit an insurance claim or something similar as a way to turn a small, cheap project into an unjustifiably large and expensive project. It is vital to only get the advice of certified, trusted professionals that have a stellar reputation for honesty and quality. Also, no stucco inspection will dismantle or be invasive or destructive in any way unless it is necessary and will certainly require the owner's permission first.
OLDER HOMES
When buying an "old house", it should be part of your assumption that even if things were maintained meticulously there have be changes in both the codes that govern building methods and the materials available to builders. If you investigate these changes you should be able to do a better job maintaining your new "old house" than the previous owners and appropriately budget for it. An annual stucco or EIFS inspection and regular maintenance will go a long way to avoid any serious failure.
Conclusion
In conclusion, it's important to hire the right professional for the job. A standard home inspection will not provide the level of detail concerning the stucco exterior specifically of your home, nor will they have the appropriate tools on site to do so. In the case of stucco façade and stucco home exterior, it's vital to use a qualified, EDI Certified stucco inspector from a company that is appropriately licensed and insured.
Here at Stucco Testing Specialists, we fulfill all the above-mentioned qualifications. Every stucco inspector is EDI Certified, has all the latest, most sophisticated tools in the industry and we are fully licensed and insured to conduct stucco inspections. We provide detailed reports with all our inspections with a quick 24-48-hour turnaround as well as expedited reports, if needed. The comprehensive report is meticulously organized and concise and details the results of the stucco inspection as well as information on the property, an exhaustive checklist of pertinent inspection points, the scope of the inspection and more.
If your home has a Stucco facade and has not had a stucco inspection carried out in the last 2 years, you should consider getting a stucco inspection. If you are buying or selling a stucco home, a stucco test is highly recommended to uncover any hidden problems and avoid costly lawsuits.